Toy Hacking for Accessibility
A workshop on toy hacking for children with disabilities. 

Make battery operated devices more accessible, learn to solder, and modify simple electronics at the same time.
Saturday, January 12, 2019, 9:00 am – 12:00 pm
Adaptive Design Association/DIYAbility
313 W. 36th Street, NY NY
(btwn 8th and 9th ave)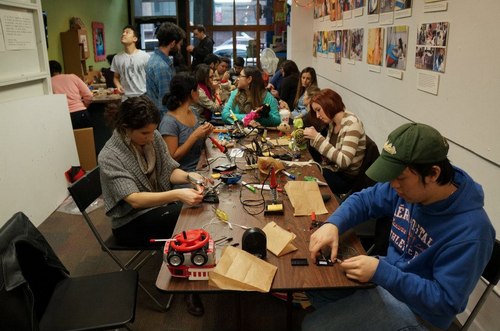 In this workshop attendees will learn and be able to:
Describe the components required for a switch to work

List three areas on the body that an individual with a disability can use to access an ability switch, without or with the appropriate mounting tools

Describe two or more characteristics on a toy (or another battery operated device) that allow for switch accessibility

Independently solder the toy or device and add a switch jack for accessibility for an individual with a disability
Who should attend?
Occupational, physical, speech-language pathologists, music and recreational therapists

Parents, relatives and family friends

Makers and tinkerers

Children under 18 are welcome but must be accompanied by an adult

Beginners, new to soldering and experts!

This is an introductory course for all learners
Past Events
We have held toy tinkering events in the past, Toy Hacking for Accessibility has always been a great success where dozens of toys were switch adapted by people who were just learning the basics of soldering and hacking. 
Visit our Facebook Photo Album to see photos from former events, https://www.facebook.com/DiyAbility/photos_stream
What is Switch Accessibility?
For many kids with physical disabilities playing with off-the-shelf toys is not possible, depending on their unique abilities a toy might not be accessible. 
However, if a child can move their head, feet, arm, mouth or any other part of their body it is possible to use a switch to play with the toy. 
Adding switch jacks to a toy will not affect the original quality of use, the existing buttons will operate as normal and kids who use accessibility switches will now be able to operate the toy.
Learn how to solder and hack!
Bring a simple toy (from online or toy store) and modify them for switch accessibility. We will discuss the skills you need to switch adapt toys and other devices in the future for personal use, work and fun. 
Learn how to open and identify the components inside a toy or basic electronic device.

Understand the wiring of a toy from battery to switches to the activation of the device.

Learn to solder and add an accessibility switch jack to an off-the-shelf toy. And put the toy back together for normal use or with a switch.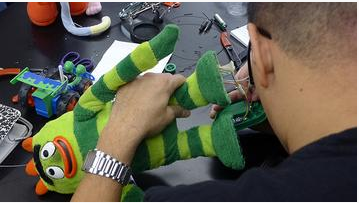 Recommendations – great toys that are fun and easy to hack
Remote Control Fart Machine RC Whoopee Cushion
Spin Art Machine Rose Art by Mega Brands
Motorized Bubble Machine 
Please bring a toy to modify and batteries, we will not be providing them. Select a toy that is appropriate for your child. Below is a list of characteristics for selecting a toy for easy modification.
MUST run on batteries, no AC / wall plug toys.

Toys with simple operation, a touch, squeeze, pinch, pull. For example, a teddy bear that sings when its foot or hand is squeezed, or its belly is poked.

Inexpensive toys are actually easier to open and adapt.

Remote control toys, electronic musical instruments, and electronic whoopee cushions are great!
Things to bring to the workshop:
Battery operated toy

Batteries for your toy

Camera to document your awesome hacking
We will supply you with all the soldering irons, screwdrivers, switch jacks for accessibility switches that you need.
Special needs and requests – Please contact DIYAbility, LLC at least ten days prior to the course with your ADA needs if you require assistance accessing course materials or participating in classes and workshops.
DIYAbility, LLC is an approved provider of continuing education activities for AOTA.

Classification Code:  This course meets the AOTA classification code of Occupational Therapy Process: Outcomes
CEU Information:  3 Contact hours/ .3 CEUs will be awarded
Cancellation Policy:
Course cancellation by Provider: DIYAbility reserves the right to cancel any training due to insufficient registration or extenuating circumstances and will provide a full tuition refund in such cases.

Course cancellation by the Learner: Deadline for registration is one week prior to the course. Cancellation will be accepted until that deadline minus a $25 administration fee. No refunds will be given after the deadline.
 *The assignment of AOTA CEUs does not imply endorsement of specific course content, products, or clinical procedures by AOTA
About DIYAbility:
We believe that people with and without disabilities can be empowered when using the correct technology. More importantly, we want everyone to know they have the right to participate in the design & making of technology – having the opportunity to make your own 'stuff' can lead to increased quality of life, maintaining independence, perhaps a new career and staying curious about the world. Making also happens to be really fun!
The goal of DIYAbility is to create a community for people who believe that technology is world opening. The tools and software available today can let anyone implement and make their own devices and make almost anything else. DIYAbility is not just about assistive technology and all that orthopedic looking stuff – it is about acting on an idea whether it is for personal fun or assistance.
Read more about us here, http://www.diyability.org.