Using an iPad with a Switch:  Touch Screen Optional
Wednesday, August 30th, 3:45 pm – 4:45 pm
Did you know that the iPad can be used without touching the screen?  Know how to access these features?
This is a webinar on the use of an iPad and indirect selection, to meet needs of individuals with physical disabilities. We will focus on the scanning features in the iOS 10 operating system.  This will includes all options for single switch, multiple switch, or joystick use for iPad control. 
 By the end of this webinar, learners will be able to:
Discuss various disabilities and how the resulting impairments can affect tablet use

Discuss scanning or indirect selection options that are part of the OS in the iPad

Program a "recipe" for increased ease with scanning 

Identify three ways to make modifications to the scanning in the OS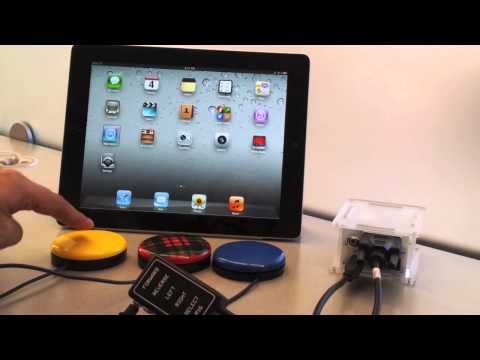 Occupational, physical, recreational therapists

Speech-Language pathologists

Psychologists

Educators

Individuals with mixed abilities, family members, caregivers 
 It is appropriate for all levels of knowledge, beginner to experienced technology user.
DIYAbility is an Approved Provider of CEU credits for AOTA.

Classification Code:
  This course meets the AOTA classification code of Occupational Therapy Process:
Contact Hours:  This course will provide 1.0 hours of contact hours, .10 CEUs will be awarded at the completion of a quiz that will be delivered electronically.  A passing score of 70% is considered passing.  Once a passing score has been obtained a certificate of attendance will be emailed to the learner.  Full attendance is required for completion and CEU obtainment in addition to passing the quiz (signed in at the beginning of the webinar).
Materials:  This webinar will be a lecture/webinar format.  If you have an iPad available, have it along side of you to follow along when possible.
Special needs and requests – Please contact the inservice organizer at least ten days prior to the course with your ADA needs if you require assistance accessing the online material or you have needs to maximize your learning.
Cancellation Policy:  
DIYAbility reserves the right to cancel any training due to insufficient registration or extenuating circumstances.  If the course is canceled by the organizer, a full refund will be provided to all registrants.  Learners must make the organizer aware of a need for a cancellation within ten days of the webinar for a full refund.  If a cancellation occurs afterwards, the learner will receive a 50% refund.
Unable to make this webinar?  It will be available in our archives four weeks after the date of the live event.

The assignment of AOTA CEUs does not imply endorsement of specific course content, products, or clinical procedures by AOTA.
About DIYAbility:
We believe that people with and without disabilities can be empowered when using the correct technology. More importantly, we want everyone to know they have the right to participate in the design & making of technology – having the opportunity to make your own 'stuff' can lead to increased quality of life, maintaining independence, perhaps a new career and staying curious about the world. Making also happens to be really fun!
The goal of DIYAbility is to create a community for people who believe that technology is world opening. The tools and software available today can let anyone implement and make their own devices and make almost anything else. DIYAbility is not just about assistive technology and all that orthopedic looking stuff – it is about acting on an idea whether it is for personal fun or assistance.
Read more about us here, http://www.diyability.org.