On July 15, 2013, DIYAbility hosted a new assistive technology event, 'Hands On' Assistive Technology Workshop: From Microsoft to the Makey Makey.  Occupational therapists, special needs community members as well Makers and Tinkerers attended our class.  The focus was to educate those interested in learning about computer accessibility DIY solutions for access.
Access to a computer is one of the greatest equalizers for independence and opportunities for people with disabilities.  We began by talking about the standard accessibility options available in Microsoft.  This also included basic changes that could be made to mouse and keyboard functions outside of the accessibility options.  Often, making these simple changes can enable a user with a disability to independently use their computer.  This can enhance their ability to participate in leisure or work related tasks.  During the workshop, all participants were easily able to navigate and adapt their operating systems.
At times, a user with a disability requires more than these changes.  This can include adaptive hardware or software that can emulate all mouse and keyboard functions.  Such equipment can assist a variety of impairments, ranging from an individual with carpal tunnel syndrome to a user that does not have active movement in their arms.  The participants of this workshop were able to see and trial examples of such equipment.
The class then got 'hands on' by using the Makey Makey.  The Makey Makey in an interface that is able to communicate to a computer; giving it the ability to send key presses, mouse clicks, and mouse movements.  Everyday objects can be used with the Makey Makey as the "switches".  This can include a banana, apple, aluminum foil, and even gummy bears.  Not only can this be a fun DIY experiment, it illustrates how easy it can be to make your own devices for computer access.  Not only can simple objects work as a short-term solution more durable items can be used such as conductive thread and fabric for a long-term solution.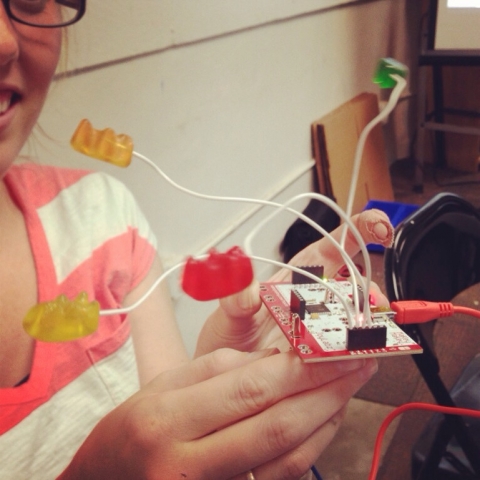 By utilizing simple DIY adaptations to a computer an individual with a disability can independently access its many uses.  Through our most recent workshop we attempted to educate how this can be done with simple operating system changes and DIY solutions, including the use of the Makey Makey.  Special thanks to the Adaptive Design Association for use of their space for this event.  We hope to continue to demonstrate ways assistive technology can be used to facilitate independence for individuals with disabilities in all settings.
Follow us on twitter or facebook for more information about our upcoming events!